YOU MAY ASK WHY SHILO ?  HERE IS WHY!!
Whether you are looking for the perfect show dog, or just the perfect addition to your family you look for special qualities in a dog. This is what we breed to accomplish.
Did you know Goldens average life span use to be 17 years! We will discuss all the reasons and what you can do about it on our health page. But for starters you must start by looking at the current data on the dog you are researching. The most important criteria are as follows:
1. First Longevity!
We know of NO other breeding stud that has longevity lines like Shilo. His grandparents were almost 16 and he even has an ancestor that reached 17 and they died of old age not cancer!
Here is his dad's  K9data page for your review.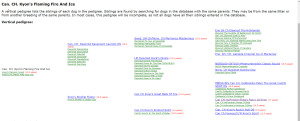 2. Their COI:
This is their coefficient for inbreeding criteria. It can be determined by testing back 10 generations to be sure that inbreeding has not tainted their lines. The bigger the number the higher chance for cancer, and genetic diseases. Always ask your potential breed prospects "What is your dogs COI?" If they cannot answer. Do not breed with them! The perfect number is below 8. Shilos is 7.84 and when I mix him with the Dams we breed to it often drop to 4 or less.This is why we rarely do any in line breeding for at least 4 or 5 generations – Shilos is great at 7.84.  Your pups will have more inherited disease and shorter life with high COI's. Here is Shilos – very Good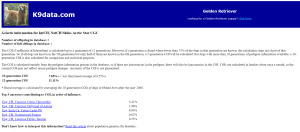 Hip Scores.
A must for a great dog (whether breeding or getting a pup). You want to see a Good if possible. Fair is OK if the parents have Goods. Shilo is a Good and his Parents are Excellent. (A top thing to look for). When they are true English dogs you will see that they have BVA numbers…always look for the smaller number. (BVA 1/2) If they are American AKC you will see a single 9 digit OFA number. The 7th digit will be a "F" if they rank fair, a "G" if they rank good and an "E" if they rank excellent. If they are European look for the top of the alphabet as in HA (hips A – excellent). So now that you are armed with this information – check out how awesome Shilos Rocks:

Optional tests.
Other tests such as OFA eyes, cardiac and PRa's can be obtained- all should be clear or normal. Often carrier is a result which can be OK if breeding to a clear. Shilos are Good.
More About Shilo….
Gorgeous and proven English Cream Golden Retriever Stud
Sired by Canadian Grand Champion Kyon's Flaming Fire and Ice out of Davey – Dewmist Davenport. Shilo is a one of a kind stud. Not only did he just get awarded with his International and National Champion titles (IABCA) But he is also a licensed Service dog. He participates in Agility, AKC Rally, Conformation and Obedience. He is as beautiful on the inside as the out. He is gracious, loving and incredibly intelligent. His temperament is calm and he is always ready to please. He weighs in at about 85 lbs and is close to 24 inches at the withers. He has successfully bred both live and AI and has obtained high scores on all of his certifications including AKC CHIC eyes, heart, hips and elbows.. He is amazing with kids and animals and knows over 39 tricks. With such a fabulous disposition and looks he can't help but improve any breeder's line. Our price of just $1400 is excellent considering his pedigree and accomplishments.. Take advantage of this great rate. He has a very healthy sperm count and Is a gentle yet fast and efficient live coverage mount. AI is also available and Frozen is stored at the Canine CryoBank in San Marcos. We live on a 5 acre horse ranch where the breeding environment is perfect. We do offer discounts to clients within Service Dog Organizations. See Pedigree and certifications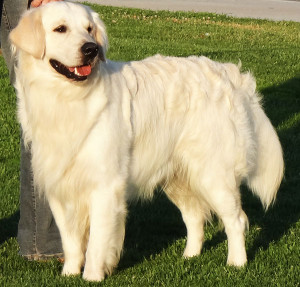 Click the title page to go back to posts.