Video Moments – Shilo has so many unique talents and skills from pulling my wheelchair to bringing me my socks and shoes. He is always there to please. Here are a few clips of him doing silent commands and bringing in the groceries.
Shilo performs to Silent Commands
Groceries #1
Groceries #2  
Why Shilos Arctic Star
Puppies up and Puppies Coming
Health and wellness
Training and Socialization
Shilos Contact Information

Why Shilo?

In 2006 we were blessed to adopt an X-Show dog.  A beautiful, 4 year old, championship qualified golden retriever whose breeder (Delane Golden Retrievers) felt deserved to be part of a loving home environment, rather than live out her post-show days in a breeder's kennel.  Her name was Delane's Par For The Season, aka…Anika.

While my husband and I had previously owned and bred Alaskan Malamutes, in addition to a number of beautiful German Shepherds, nothing could have prepared us for the impact Anika would have on our lives.
Whether tending to my personal support needs, playing with family and friends, interacting with our horses, or winning hearts in costume and parade, Anika stole the show…and she did it without even trying.   Unfortunately, Anika passed away at the early age of 9 due to cancer.  We were devastated.  Yet, in her passing, Anika set the table for us to find Shilo.  You see, she had become such an integral part of our family,  that we could not go through life without another Golden Retriever in it.   Not as a replacement, because Anika was and remains irreplaceable, but as a loving companion and member of our family, with the unparallel Golden Retriever qualities, mixed in with its own unique abilities, traits and personality.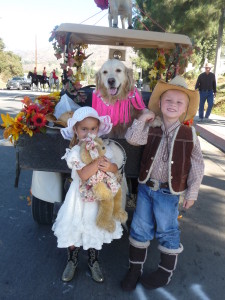 Well, we started researching, and researching, and researching.  Anika was an American Golden Retriever with light coat color, female, with feathers made in Heaven.  So as not be subject to unfair comparisons, we decided to get a male, English Cream (less instance of cancers, longer average lifespan and other health benefits), the solid look we have come to love, with a lower maintenance coat.
The result is Shilo.  After much diligence, research and prayer, we found him in Santa Barbara, CA, at the beautiful Saddlecreek Ranch.  His parents were on sight, and the breeder was incredible.  That was about 3 1/2 years ago and we believe without reservation that Shilo has truly been a gift from God.  In fact, and as we came to later discover, his name in Hebrew means "His Gift"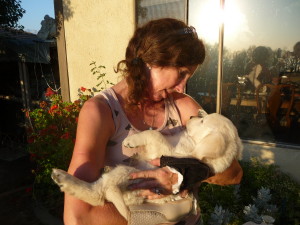 Following is our Mission with Shilo:
We will only breed to select females who possess documented breed qualities, and are owned by dedicated and loving family sponsors who will responsibly place the puppies in the best life-time situations possible.
While Shilo's beauty (inside and out), conformation, athleticism, temperament and talents will improve any line, we have chosen to cater to those with one or more of the following interests:
Improve their female's line relative to health, beauty, conformation and/or athleticism
Breed the perfect family companion: size, athletic, smart, low maintenance, loving, great      with other animals, attracts attention wherever you go and demands so little while giving so much.
When matched with the "right female", help to create world-class Service Dogs
Thank you for visiting Shilo's website and taking the time to learn a little more about our incredible, God given boy.  And, if we sound a bit prejudice, well, we are…and for good reason, as anyone who has been blessed to get to know him will attest to.
YEA SHILO
Certified US Service Dog, AKC Raly, Agility (member ASCA and CPC), AKC Conformation, IABC International Champion and much more