Please contact me for hundreds of personal references. Shilos pups are truly life changing!
Michelle – 909-336-8795
__________________________________________________________________________
From Norica and Shilos Litter 2019 –
Just thought you'd like to see the gorgeous progeny of your litter. Teo has been a dream. He sleeps through the night now and is already one of the most obedient puppies we've ever seen. He is able to sit and do other commands to perfection. And he is one of the most handsome animals in the world. People go nuts over him. Instagramming him. It was suggested he should have his own Instagram page! Many thanks for your exceptional puppy.
____________________________________________________________________________
Captain, A pup from Shilo and Ellie had a debut on the Caesar Milan show as well as the many other accomplishments below.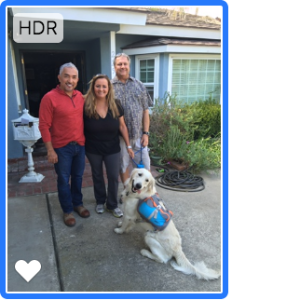 Hi Michelle m
I thought I'd check in to let you know how much we have enjoyed raising our dog, Captain.  Shilo and Ellie are his parents, and he looks so much like his daddy.  Captain is the smartest, sweetest golden we have ever owned. His first year, he earned his CGC. Last year, he passed the TDI – THerapy Dog International exam. Now he has started volunteering at ST Mary's hospital in Long Beach, CA.  He is also the Department mascot for Youth Basketball at a local city.
We thank you for keeping the lineage so pure.  Captain is now 4 1/2 years old, and we hope to get another male pup from one of Shilo's future litters next summer.  Can you let me know how best to get on a list for next years litters?
Many thanks,
Sandra and Ted Holst
___________________________________________________________________________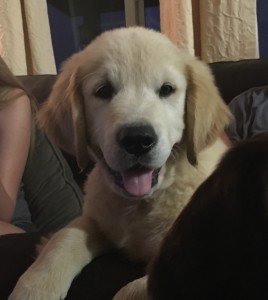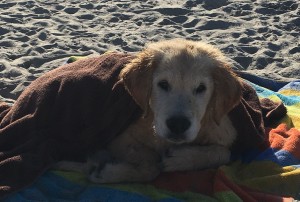 Hi Guys,  I just want to tell you quickly that little Apollo is the most remarkable and endearing puppy ever and has been the best gift in the world to our household. He has so many little quirks and personality that's too much to mention in this email. I started him in obedience classes for puppies last Sunday and he was a shining star. Like Michelle said I swear he came out of the womb trained. We took them to dog beach in San Diego twice and this past Sunday he was like a rockstar in downtown Ocean Beach when I walked him looking at the shops and restaurants. He is calm, loving, super bright, hangs around my feet wherever I am and the best companion for my chocolate lab as well. He seems to know inherently how to change his manner from playing with Bella to being with humans. I have a patient with severe Parkinson's and she is quite spiritual and I told her the whole story with Sasha and Apollo and she told me Apollo was a gift from Sasha. I don't know about all of that but it's a very warm and comforting thought. Truly he is a bright warm presence in this household. He's so cute we can't stand it!
Here's a few pics and I'm sorry I haven't written earlier to share my gratitude. By the way he's a prime candidate for being a therapy dog and i'm planning on that path of training him I have already contacted love On a leash so he is in their radar.
Sent from my iPhone
Trish
_________________________________________________________________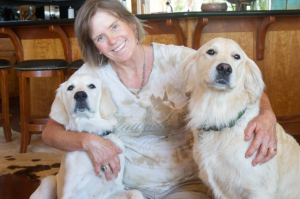 Jo Danehy, Sasha and one of Shilos pups
I would like to thank my clients for enriching my life and letting me experience their puppy raising adventures. I would like to give special recognition to Jo Danehy for her amazing way of capturing the details thru her talents and natural gifts of photography and literature. Her stories and pictures allow you to literally "Be there" – One with them all from puppies to horses she has the insight and ability to let you in. You can get lost in her pages and and words. Her amazing photography is here and there through my site and you can learn much more about her on Shilo's ladies page under "Sasha" Her Blog is called The sundog Drift – and time swill certainly drift when you go thru it so you may want to go straight to Shilo and Sasha's puppies first. Here is her facebook link as well Jo Danehy. Thanks Jo looking forward to our next breeding adventure!
—————————————————————————————————————————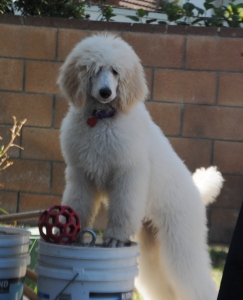 "Harley"
I would also like to thank Andrea for enlightening my knowledge about the "new breed" the so very popular but not so popular at all breed. The Golden Doodle. I had no idea how incredible these dogs really are and what amazing possibilities there are for them in the service dog world. It is hard enough being disabled as I am and to travel with your best friend "Shilo" but when you are sitting on a plane right next to an allergic person it is no fun at all. Shilo can wow and dow them and put on all his charm but they can't breath. Then came the golden Doodle! Pretty much shed free and hypoallergenic not to mention incredibly smart and devoted. The best of both worlds. Then came Andrea and Harley her amazing F1 Standard poodle and Shilo loved both of them! Shilo is very picky about his ladies and at the Canine Cryobank where he has his semen frozen Carol will testify to that. He only likes Goldens and go figure – Poodles. Must be he knows something we don't. Have you ever watched dogs at dog parks. Who plays together the very best Goldens and Poodles. Andrea had to really win me over and prove that this was a great match and that she was a great agent and mom. And so she did. Nine of the most amazing little Golden Doodles you ever saw. She did everything right from the moment they met till the last one left home. Thanks Andrea – looking forward to doing it all over again!
————————————————————————————————–
I had the pleasure and good luck to find Michelle and her wonderful British Crèam Retriever Shilo when I was looking for a stud dog to breed with my female. Right from the beginning Michelle was so friendly and extremely informative regarding Shilo, his numerous credentials, breeding history ,screenings and personality traits. I was relatively new to breeding and Michelle was so welcoming of the idea of our dogs meeting, and greatly contributed to my knowledge of breeding puppies.
We met Michelle at her home and met Shilo. Such an amazing boy! After spending time getting to see Shilo in person I knew I had found the right stud for my girl, and the right owner in Michelle.
Michelle is unbelievably involved in every aspect of Shilo's life and stud career. No question was considered irrelevant and this continued well after our dogs bred. Michelle was available whether it be on the phone, text or email up until all pups were sold and since then as we hope to breed together again.
I cannot thank Michelle enough for her expertise and support!!!
Thank you,
Andrea N.
____________________________________________________________________