Andrea has come back on the scene with an amazing new lady Callie! She holds great promise and has amazing traits. Here is what Andrea has to say about her…
Callie is ALWAYS smiling and happy. We call her a Golden in a Poodle body as she is super intelligent, protective,  loves to play catch, swims, walks around holding the other dogs leashes. Callie is so sweet and affectionate beyond words, loves to cuddle and be a lapdog, wakes me up in the morning by laying across my chest and licking me. Sensitive and playful but can lay around with the best of them not like other poodles that are nervous.
We had Callie out to the Ranch to romp with Shilo and Lady and she was the perfect companion – not dominant – not fussy, a total pleasure to be around. Shilo was smitten by her and that is why we are sure there were so many pups!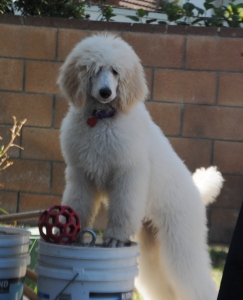 Harley is our first breed to an amazing F1 AKC Standard Poodle to get golden doodles. Many purist breeders of goldens ask why? And here is my response. The golden doodle has become very valuable to the service and therapy dog industry. Not only are they incredibly intelligent but the are also hypoalergetic which allows them to travel just about anywhere with their partners. They are not recognized by the AKC at this point but the breed has become highly visible and sought after. After meeting Harley and her owner Andrea I began to understand why. Harley is not only beautiful and intelligent but stands on her own merit with high AKC standards. She was an amazing mother to her and Shilos pups. I am Looking forward to posting them as they grow in my new "Look at us Now" page, as well as future litters.
A little from Andrea,  Harley's mom
These F1 Golden Doodle puppies are the best of 2 breeds, Shilo the English Cream Golden Retriever and Harley, an AKC registered Standard Poodle. Golden Doodles are known for their minimal to non shedding hair, great for people with allergies and service dogs. Personality traits range from intelligent, loyal, easily trainable, great with kids, affectionate, and devoted and much more! All OFA screens passed. Puppies will be ready to go home mid November. Dew claws already removed, plus all pups will be micro chipped, vet examined, current on vaccinations and worming, giardia tested, and have a Health Guarantee. Harley had 5 boys and 4 girls. They will be a georgious cream with nice pigmentation. Put in your reservation now for the next litter.
_________________________
on Nov 17th Andrea wrote:
I had the pleasure and good luck to find Michelle and her wonderful British Crèam Retriever Shilo when I was looking for a stud dog to breed with my female. Right from the beginning Michelle was so friendly and extremely informative regarding Shilo, his numerous credentials, breeding history ,screenings and personality traits. I was relatively new to breeding and Michelle was so welcoming of the idea of our dogs meeting, and greatly contributed to my knowledge of breeding puppies.
We met Michelle at her home and met Shilo. Such an amazing boy! After spending time getting to see Shilo in person I knew I had found the right stud for my girl, and the right owner in Michelle.
Michelle is unbelievably involved in every aspect of Shilo's life and stud career. No question was considered irrelevant and this continued well after our dogs bred. Michelle was available whether it be on the phone, text or email up until all pups were sold and since then as we hope to breed together again.
I cannot thank Michelle enough for her expertise and support!!!
Thank you,
Andrea N.