Shilo and Carol with his semen swimming in the back ground
Shilo breeds both in the natural setting at our ranch in Murrieta California (See Live Coverage) as well as Artificial insemination at a very well known  reproductive centers by us. The Canine Cryobank in San Marcos, Ca  His sperm count, mobility and all other readings have been evaluated each time and have been top notch.
Shilo has frozen semen stored at the Canine Cryobank in San Marcos – it can be shipped same day
Fresh Chilled
Fresh chilled semen refers to the preparation of semen and cooling to refrigeration temperatures (5-8'C) so that it can be shipped overnight for insemination within 24 hours.  The sperm rich fraction of the semen is collected and a nutrient/buffer is added to it.  It is then placed in a shipping container which will keep it at refrigeration temperature for up to 12 hours.  On arrival it is placed into the bitch either vaginally, surgically or via TCI.
Because the semen is thought to live 72 hours with this method it is felt that conception rates may be higher  because the ovulation timing is not as critical and there is a greater number of sperm available at the time the egg is ready for fertilization.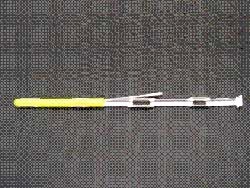 Frozen Semen 
The initial steps in semen freezing are similar to the preparation of semen for fresh chilled shipping in that semen quality is assessed and if adequate,  a nutrient is added and the semen is cooled to refrigeration temperature to 2 or more hours.  At this time the motility is checked and if still adequate, a glycerol containing solution is added to the semen.  This protects the sperm from the freezing process.
The semen is then generally loaded into straws which are individually labeled with the stud dog's information. These straws are then suspended over liquid nitrogen vapour for a short period of time before they are plunged into the liquid nitrogen.  The straws are then loaded into goblets which are attached to aluminum canes and placed in liquid nitrogen containing storage tanks.
The semen must remain frozen until just before use, the shipping of frozen semen requires a  specialized container called a dry shipper.  This shipper will keep semen frozen for 7-14 days while underway.  Once thawed, the semen is viable 12-24 hours and  placed directly in the uterus at the exact time the eggs are ready for fertilization. Please see the canine Cryobank link above for details.