April 12, 2016,
Jovie comes through again….Just look at this amazing puppy pile of pure English Cream Golden Retriever puppies – 8 beautiful girls and 2 handsome boys! Born on April 12th! Check out our puppy page for more pictures! Yea Jovie!

Jovi was our Spring Litter Lady 2015
NEWS FLASH!  Jovi had 12, yes you heard us right…12 perfect pure English Cream Golden retriever puppies on March 29th – WOW
Jovi (AKC Southern Jovi) is a full English Cream Golden Retriever with a nice European heritage (Hungary and Finland)
Jovi has all the traits we so seek in our breeding. Not only is she fully AKC and OFA certified but has that wonderful temperament Shilo fans have grown to expect. She is extremely bright and beautiful with a calm and loyal personality. Her family is a darling couple (Katelyn and Garth) with two young boys and they live in Fresno CA. The ultrasound confirmed 7 to 9 pups due towards the end of March. We have a few on the wait list and we are currently taking applications for this very special litter. Please Contact Michelle.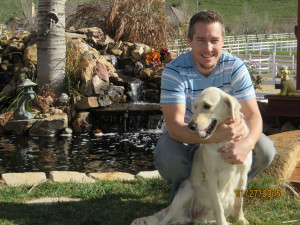 Pictured above is Jovi and his human Dad, Garth at Rancho Corbello breeding with Shilo and below are a few pictures of Jovi's dad – What a handsome Stud! These puppies will be 4 to 6 Generations of very light Cream – My name for them are snow balls….and they should have long silky hair as well. Please contact me if you have an interest and I will send you their pedigree information. Michelle