What a wonderful gift for you or your loved ones….precious healthy, one of a kind Shilos Artic Star English Cream Golden Retriever Puppies! This litter is truly crème de la crème…The amazing personality and longevity that we all expect and love (selected from the past generations that have given us the real thing!) God bless Davey – Dewmist Davenport – the king of the best. He just passed this year at almost 17years old and look how great he looks (below) – this is Shilos granddad and this is his Dam (Hailey Wong) great – great grandfather.
This litter has been adopted out to fabulous families….See our "Look at us Now" page.
Happy birthday to the king of Kyon: CH Dewmist Davenport (OS)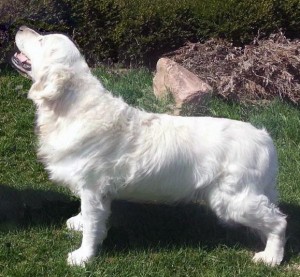 We are thrilled to recently having had the pleasure of celebrating Davey's birthday! He has now started on his 16th year and is as sound as any dog can be! He is pretty well the foundation of the past decade and a half of Kyon dogs – and is an amazing dog in ALL ways. We LOVE Davey dearly and our thanks go out to our good friend Henric Fryckstrand for having entrusted us with such a gem of a dog.
this photo show him still strong and healthy; easily free-stacking- while we are celebrating his amazing vigour and health ! A hugely influential sire in North-America, of exceptional soundness, Davey's hips are rated OFA excellent and his Elbows normal, with Heart cardiologist certified normal as well. His eyes have been opthamologist certified clear annually until his 15th year- and last year he also achieved his PRA test normal (DNA) . We treasure each and every day with our boy– and hope there will be much more time to enjoy his magnificent presence! to see more phtotos of Davey on his birthday please visit his album on our Kyon facebook site.
https://www.facebook.com/media/set/?set=a.10151459752558106.1073741829.177264048105&type=3
____________________________________________________
We are so grateful for our amazing heritage – to have genuinely strong healthy English Cream Golden Retrievers that were and are breed to make a difference in all we do. That care and love and travel with us and put us on a pedestal. Shilo brings me my slippers every morning, pulls my wheel chair and stays so patiently by my bed for every surgery (21 now). He will not eat or drink or look away until he is sure I am OK…He fly's on planes with me, he protects me, he picks up every thing I drop….even my pills…with out even getting them wet and places them gently in my hand, then he asks "what else can I do for you mom? I am so blessed and privileged to have my gift (that is what I hear Shilo means – "his gift" in Hebrew.) When we lost my last service dog – an amazing American golden at the age of 9 to cancer – my mission started and I researched for what seemed forever and we decided that the English Goldens were perfect…in our search (well really my husbands) we found Saddleback Ranch and Diane Attkinson. She is an amazing woman, and amazing people tend to have amazing animals. She has carried forth the Healthy tradition and taught me a lot and I left with Shilo – who I named because he was shy and laying low …get it Shy low. God bless Diane, God bless my husband Mark, God bless Davey (Dewmist Davenport) and God Bless his loving breeders in Canada (Kyon Kennels)